Specialty coffee bar in Baarn

Specialty coffee-to-go, take away cakes & cookies, tea, comfort food to stay on our sunny terrace
Order cakes & cookies for a mini-party, to share with your roomies, family, colleagues, while zooming, meeting live or on your solo coffee break.
Onze specialty coffee bar in Baarn is open voor coffee-to-go, take away cakes & cookies en alle items op onze menukaart.
Vanaf heden mogen we gasten op ons uitgebreide terras ontvangen en ook weer binnen. Onze openingstijden zijn als voorheen: dinsdag t/m zaterdag van 8.30 – 17.00 uur.
Taarten en koeken op bestelling zijn gedurende deze tijden op te halen, in overleg kunnen we ook bezorgen in Baarn, en op sommige uren ook in de regio 🙂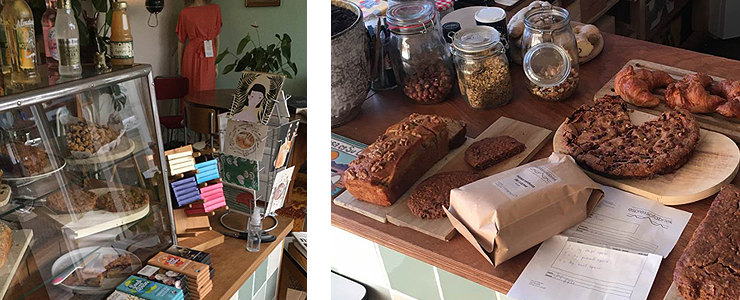 Hele (€15) en halve (€7,50) taarten:
witte chocolade frambozentaart, bananenbrood, worteltaart, appel / blauwe bessen / peren kruimeltaart, brownie, gezonde cake (gluten- en lactosevrij, gezoet met fruit), haverkoeken en chocoladekoeken.
Ook onze koffiebonen van Keppler en De Espressofabriek zijn te bestellen.
Coffee
Kees Kraakman from Keppler Koffie supplies us weekly with freshly roasted coffee. Besides great coffee its also great fun to work with him & his guys.
Ever since the founding of Mi Casa we work with Kees. He started his coffee career long ago at The Golden Coffee Box. From there on he developed into being a coffee expert. Internationally respected coffee roaster and trainer in our country and abroad. Within the world of coffee Kees is known by the name: Koffie Kees, Kees is Coffee.
Before we opened Mi Casa Su Casa we had an intensive training with Kees. What we were looking for with Kees was the story behind the cup. What happens to the coffee cherry before it turns into coffee? What's the difference between good coffee and specialty coffee? It became painfully clear to us that from growing to harvesting to roasting grinding and finally brewing the coffee so much things could go wrong. Even with the best equipment a barista can easily kill a specialty coffee without too much trouble – or – and their we find our challenge and satisfaction – do the specialty coffee justice and let our guests have an extra ordinary pleasant taste experience.
We love the fact that we work with small independent suppliers who source and roast the coffee themselves so that we can vary a lot with the different single origins. Every day we grind two different single origins for espresso and another one for filter coffee.
Besides Keppler we work with other well-known roasters such as de Espressofabriek.
Our suppliers
Mi Casa, specialty coffee bar in Baarn, works with local shops for daily needs in dairy, fruits, flower and all. For our choice in juices, soda's, chocolate and the like, we leap on various suppliers who are on the lookout for tasteful, new or just old blends.
Lunch time all day. Besides sweetness we also make grilled sandwiches and salads. We call it lunch, but it's served during the day.
Hotsoup – run by Nanette en Rogier – imports beautiful whole leaf HiFi tea since 2006. We have a changing assortment of their most beautiful teas. Besides the 'regular teas' we have a few blends with a twist in stock.
Bean-to-Bar chocolate
We are always on the lookout for extra ordinary delicious chocolate. Check and explore our current stock on the counter.
Put the needle on the record
Uncapable of producing a single note ourselves we do love music made by those who can. We sell a select varying assortment of recent, newly released and vintage vinyl. Dig the groove.
Postcards connecting the world
Looking for a card for that special someone? We sell the most beautiful/ funniest/ horrible postcards we can find.
Local books
We sell books of any kind of writer currently living in Baarn, as well as books written by worldwide locals, as long as it's a must read.
The Sweet adventures of the traveling sugarpot
Does our coffee need sugar? We think not. However, after tasting without sugar first, feel free to add some if you prefer to. We have sugar pots @Mi Casa but they wander around a lot. Take a look around and ask your neighbour. Asking around for sugar sometimes leads to unexpected conversations. Are you in no need of sugar but are you interested in your neighbour – and you don't know how to start a conversation… just ask for the sugarpot.
Giftcards
Need a original gift? We have lovely designed giftcards, or you can pick up a card that fits your receiver. Please ask at the bar.
Expositions de la casa
We are fond of any arty-like initative on our walls. We like to reserve space for local artists of any kind and age to expose their work.
We all start as strangers
portraits & stories
Nowadays it seems like people are afraid of truly connecting with each other. At Mi Casa Su Casa we see people from all walks of life connecting through specialty coffee, tea, music & arts every day.
This is a book about cafe life where we all start as strangers but part the wiser, happier and sometimes even as friends.
In our view: it doesn't matter where you are in the world; the culture of people meeting over coffee & comfort food is quite universal.
There is more that unites us than divides us.
Besides our favorite recipes, We All Start As Strangers contains portraits & stories of our guests — contributions from a selection of the musicians, illustrators and artists who have performed and exhibited with us during the past three years.
€29,90
incl. shipping costs
soft cover, 216 pages
The book is available for everyone
You can buy it at Mi Casa,

order right here

, or ask your local bookshop to order it for you.
concept Hans & Marcia Karlas
photography Alexander Sanchez & Don Crooy contributions Dusty Stray; a balladeer; Lady Dandelion; Adam Hoek; Jaimi Faulkner; Cees Schrama; Walter Lucius; Hilde Atalanta; Rosanne Groeneweg; Little Desk Studio; Studio Vondst & many others graphic design Peter Slager Garage – BNO publisher S2 uitgevers web design Krista Wamsteker
FEEL FREE TO DROP BY…
LOVE TO SEE YOU AROUND
Nieuw Baarnstraat 39, Baarn
MI CASA IS OPEN
tue – sat: 8:30 – 17:00